Product Spotlight: Handbags
What is it about a handbag that has made it an enduring staple of women's wardrobes for centuries?  Is it purely a functional place to keep one's keys? Or a method of self-expression as much as any other item of clothing?  Or perhaps it has become the status symbol, like a man's watch, where wealth and status can be judged simply by what's on your arm?   In reality, it's probably some strange combination of all of these.
Handbags are the most visible fashion accessory, and an odd mix of functional and symbolic – acting as both a necessity and a signal of personal style.  The fact that your average woman needs a handbag just to transport her essentials every day, makes it a popular gift at any stage of her life.
Handbags are beautiful and practical accessories that are highly desired, and their contents remain a mystery to all but their owners.  They are a very personal item, carrying our most prized possessions close to ourselves at all times.  A handbag is not just a fashion accessory, but a vehicle to transport the things a woman holds most dear.
But what does it take to elevate a simple handbag from 'practical' to 'desired'?
A beautiful, striking design is key.  A bag must be recognisable as a high quality piece in order to be separated from the realms of the 'everyday' bag.  It should be obvious that it is made with care and attention to detail with clean, clear lines and without being over-designed.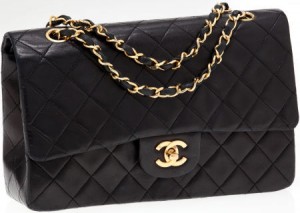 It also must be in the right place at the right time – a rhinestone clutch is not for the office, any more than a satchel is red carpet material.  Finally, a true 'it' bag should be timeless.  Like the Hermes bags famously sported by Grace Kelly, or the legendary Chanel 2.55; a bag's design should endure.  A combination of functionality and luxury, and the finest leather craftsmanship so that it can last a lifetime – that's what turns a practical bag into an iconic one.
Save
Save